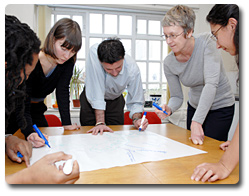 ZaCale Resources Company, LLC, is an independent land consulting company that provides a full spectrum of land services for our clients in oil and gas exploration and development projects in the Mid-continent area of the United States. We are focused on providing project/prospect management services that will make the projects/prospects succeed.
ZaCale can assume overall responsibility for the management of your project or manage a limited scope of work on a project/prospect. It can provide this service effectively and efficiently in either case. We have the ability to identify obstacles, evaluate situations, provide advice and suggest alternatives to resolve problems throughout all phases of the project. By handling all or a portion of the project for our clients under their direction, we enable our clients to focus on other areas of their business and to find additional reserves and value for their shareholders.
We constantly strive to expand our knowledge and research in providing the very best work product for our clients through our contacts with other oil and gas professionals, landmen and attorneys. One of our core strengths lies in the work ethic, dedication, character and experience of our land professionals, allowing them to analyze, implement, manage and complete projects with regard to the client's needs and concerns. We are able to focus our efforts to manage and work projects/prospects for our clients from the time the prospect is identified by the geologists/geophysicists through division orders ("prospect to pipeline") and be very diligent in our efforts and cost effective for our clients.
.